DR. SIWEI ZHOU'S BIOGRAPHY
Dr. Siwei Zhou, MD is a board-certified ophthalmologist with additional subspecialty training in oculofacial plastic and reconstructive surgery, also known as oculoplastic surgery. Dr. Zhou specializes in cosmetic and reconstructive surgery of the eyelids, the surrounding face, the lacrimal or tear drainage system, and the orbit or "eye socket". Through her unique training, Dr. Zhou is a member of a very limited group of eye and plastic surgeons equipped to deal with the delicate area around the eyes. Dr. Zhou's goal is to help you look better, see better, and feel better.
Dr. Siwei Zhou, MD grew up in Salt Lake City, Utah. She completed her undergraduate education at the University of Pennsylvania, graduating with a double-major in Economics and Biological Basis of Behavior. Dr. Zhou then moved to Pittsburgh, Pennsylvania, where she received her medical degree from the University of Pittsburgh School of Medicine. As a medical student, she was awarded the Keverline Memorial Award for Excellence in Ophthalmology. She continued her Ophthalmology Residency at the University of Pittsburgh Medical School.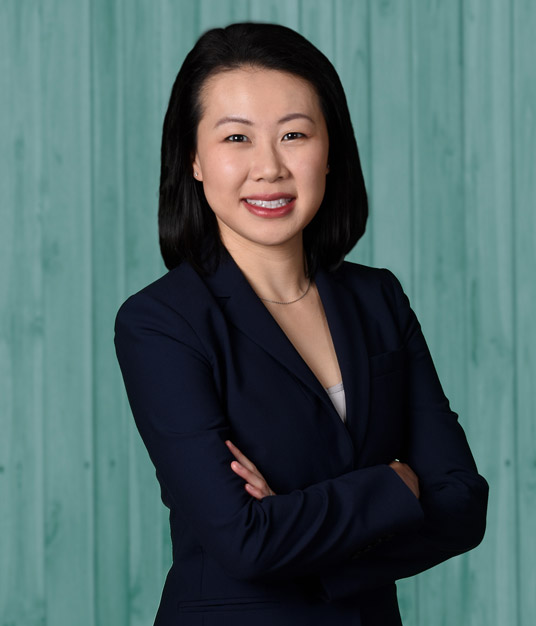 After her ophthalmology residency, Dr. Zhou sought specialized training to provide further expertise to her patients. She spent a year focusing on Neuro-Ophthalmology and Adult Strabismus Surgery at the University of Southern California Roski Eye Institute. During her time at USC, she was awarded a research grant to study imaging of the optic nerve head as a surrogate for evaluating for intracranial hypertension. She was a front-line worker during COVID and her work was awarded the most-cited case report of 2020 in the Journal of Neuro-Ophthalmology. She then dedicated two more years to complete additional training in oculoplastic and reconstructive surgery at the world-renown Wills Eye Hospital in Philadelphia, Pennsylvania. During this intensive program, she received extensive training in aesthetic and reconstructive surgeries of the eye and face.
Dr. Zhou has authored numerous scholarly papers and book chapters. She has presented her work at local and national conferences. She is passionate about educating her colleagues as well as her patients.
Dr. Siwei Zhou is excited to provide care in sunny Southern California. Outside of work, she enjoys yoga, running, art, and spending time with family and friends.